CPS Generators are connected by Powersafe, but what makes the generator company a special business to work with?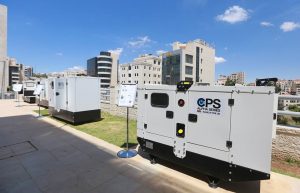 GUEST BLOG | CPS Generators
The UK has always been at the forefront of the manufacturing industry since the industrial revolution of the 18th and 19th century, when Britain was once named 'the workshop of the world'. This heritage is something that Constant Power Solutions take great pride in and continue to develop and contribute to by manufacturing all of our generators here in the UK! Over the past years there has been a significant increase in the demand for backup power solutions as many industries simply cannot afford to be without power. Did you know that a black out of just a mere 20 seconds is enough for anything with an interruptible power supply to come to a halt and require a total reboot in order to start working again?
Constant Power Solutions provide a range of power supplies to fit any application, with a variety of highly reputable branded engines (such as; Perkins, Kohler, Scania, Cummins, and Volvo) their main aim is to ensure that all customers receive a high quality UK made product wherever they are in world. With power ratings ranging from 5 to 2500 Kva, and made to measure options including mobile sets, open frame sets, PTOs, and Soundproof sets, ranging all the way up to fully bespoke containers.
Unrivalled after care support and services
Many manufacturers' services will end once the product has reached the customer, this is most certainly not the case with Constant Power Solutions. With dealers worldwide working alongside CPS they are able to offer vast product knowledge and round the clock call outs, Minor and major servicing contracts, Full Service documentation, On-site installation and commissioning (they will even decommission your old generator to make way for its replacement!), annual load testing, and are even able to supply you with the parts you need to keep your generator reliable and well maintained for many years to come! With Dealers both here in the UK and globally there is never a shortage of support on hand.
Made to order, built to last bespoke sets from CPS Generators
CPS generators are always made to the UK standard of high quality, only ever using UK and EU components. Including Powersafe connectors to ensure that their generators are not only operative to a high standard but are safe also. With optional upgrades such as; trailers, containers, water jacket heaters, ATS, and many more! Paired with worldwide shipping and years of experience in the industry – head over to www.cps-generators.com to see their full range!
Constant Power Solutions are a privately owned company who manufacture Diesel Generators and Power Solutions for Industry. All generators are made using only EU and UK components and are assembled in the UK. CPS Generators offer global shipment and an array of bespoke solutions for any application.