Phase 3's Powersafe Sequential Mating Box controls the connection sequence of incoming / outgoing high current cable connections. The sequence ensures that the Earth connection is made first and disconnected last. (FMLB– First Mate Last Break). The cable connectors are also colour coded by wiring colour standards to assure no confusion in setup.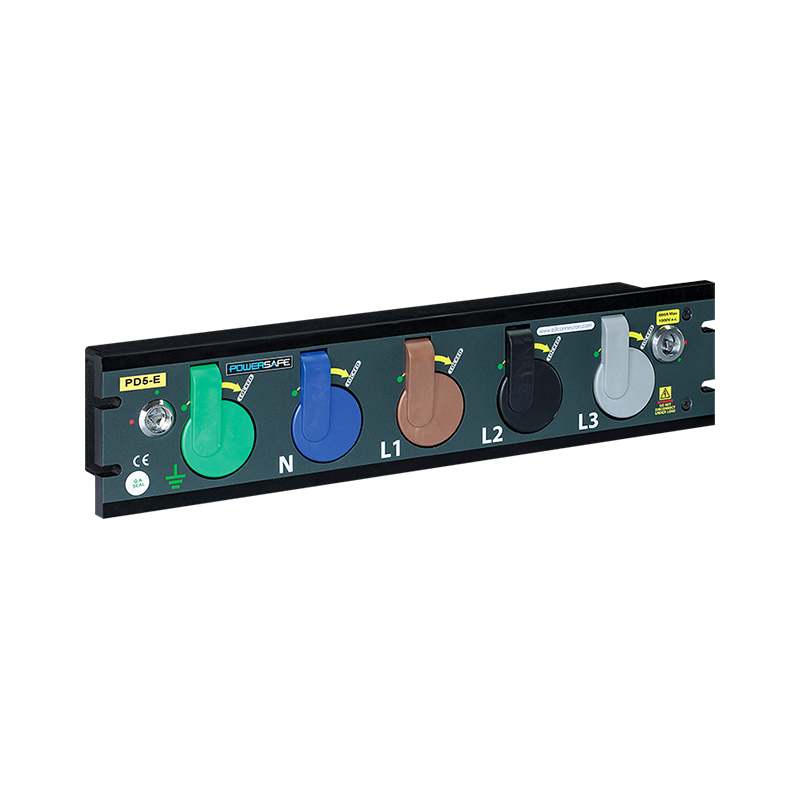 How to Connect Cables to the Power Distribution Box
With included key turn the Earth lock clockwise. The Earth cover will pop open.
Raise the Earth cover fully open. Take the Earth cable end connector (not included) and plug into the Earth socket.
NOTE: The Powersafe connectors are mechanically keyed to prevent connection errors. So it is not possible to plug any other connector other than and Earth keyed connector into this position.
To mate the connectors align the arrow on the mating connector with the green circle on the Powersafe unit front panel. Push the connector fully into the box until it stops and then turn clockwise. The Neutral cover will now pop open.
Raise the Neutral cover to the fully open position. Repeat steps 2-4 until all 5 connectors (E, N, L1,L2 &L3) are connected. NOTE: When covers are raised the previous connection cannot be disconnected without first closing the cover- for example when the Neutral cover is raised the Earth connector cannot be removed. SKIP Neutral connector step if you have purchased the 4 port Powersafe Box.
When the L3 connector is mated and turned fully clockwise to the locked position, take the key lock and turn the L3 lock clockwise.
Turning this lock does two things:
a) It locks the L3 connector in place to prevent accidental disconnection under load and prevents further access to the unit.
b) It switches an integral micro switch, which can be used as a signal path for electrical protection device. A 3 pin connector plug is available which will plug onto the 3 pin connector on the rear of the unit, to allow for connection of such devices.
How to Disconnect Cables from the Powerlock Box
The disconnect sequence is reversed. Therefore the connectors h ave to be removed from Right to Left starting with the L3 connector.
Here is the sequence of disconnection:
Turn L3 key lock anticlockwise to release the L3 connector.
Now turn the L3 connector fully anticlockwise and pull out of t he port. Push the cover down.
Note: The cover will not fully close at this point, however with the cover raised it will not be possible to remove
the next connector.
Now turn the L2 connector fully anticlockwise and unplug.
Note: the L3 cover will automatically fully close during this action
Once all connectors are removed, turn the Earth key lock antic lockwise. This locks the Earth cover
preventing access to the unit.
Overall Distro Box Dimensions:
Option 1 : 2U Rack Mounting
Height 88mm x Length 483mm x Depth 130mm
Option 2 : Panel Mounting
Height 108mm x Length 483mm x Depth 130mm
Specifications:
Maximum Rated Voltage to Earth: 2KVac
Current Rating: Up to 800A
Rear Terminals: M12 x 25 threaded studs (TIGHTEN NUTS TO A MAXIMUM OF 12 – 14Nm)
Micro Switch rating: 250VAC / 3A